american enterprise institute
For those familiar with the effort of ExxonMobil and the Koch brothers to bankroll a network of organizations denying basic climate science, a new article in the Guardian offers some revelatory information on the secret funding network that outweighs even top denier sugar daddies like Koch and Exxon.
Donors Trust and Donors Capital Fund, based out of the DC suburb of Alexandria, VA, have sent $118 million to the 'climate denial machine' from 2002-2010, according to a Greenpeace analysis featured in the Guardian. The graph above, from the article, illustrates the significance of this money as compared to giants like Koch and Exxon.
Of course, the Koch brothers are part of the Donors Trust network, using the DONORS groups to hide their own giving to a variety of corporate front groups. Because of the obscurity provided by DONORS, we don't know exactly who is getting exactly how much of the Koch payments to Donors Trust and Donors Capital Fund.
An accompanying article by the Guardian shows how the DONORS groups provide large portions of organisations' entire budgets, such as the Committee For A Constructive Tomorrow, which even among climate deniers is notably anti-scientific.
The support helped the Committee for a Constructive Tomorrow (Cfact), expand from $600,000 to $3m annual operation. In 2010, Cfact received nearly half of its budget from those anonymous donors, the records show.
The group's most visible product is the website, Climate Depot, a contrarian news source run by Marc Morano. Climate Depot sees itself as the rapid reaction force of the anti-climate cause. On the morning after Obama's state of the union address, Morano put out a point by point rebuttal to the section on climate change.
CFACT is among over a dozen organizations that get 30%-70% of their total budgets from the two DONORS groups. As we reported on PolluterWatch last October using 2010 IRS tax filings:
Americans For Prosperity Foundation got $7.6 million from DONORS groups in 2010,

43% of its budget

. AFP Foundation is chaired by David Koch and has received millions in direct funding from Koch foundations since the Koch brothers founded it.
Committee For A Constructive Tomorrow (CFACT) got $1.3 million from DONORS in 2010,

45% of its budget

.
Cornwall Alliance (through the James Partnership) got $339,500 from DONORS in 2010,

75% of its budget

.
Heartland Institute got $1.6 million from DONORS in 2010, 27% of it's budget, which came from Chicago billionaire Barre Seid (see p. 67).
State Policy Network got 36% of its 2010 budget ($4.8 million) from DONORS. SPN members include just about every climate-denying organization and every conservative think tank in the country, including AFP and Heartland.
Koch is clearly embarrassed by the negative publicity (see press roundup below). Koch "Facts," the company's PR website that lashes back at unfavorable reporting on Koch, attempted to respond to the flood of press on the DONORS groups without mentioning them by name. Similarly, Donors Trust president Whitney Ball has done her best to keep Donors Trust and Koch from being synonymous. To be clear--they are not, but the Kochs and their operatives are key players in the Donors network, with people like Arthur Brooks of the American Enterprise Institute and Steven Hayward of the Pacific Research Institute helping oversee DONORS operations, including millions in funding to their own organizations.
Greenpeace has more coming on Donors Trust, Donors Capital Fund, Koch Industries and the ongoing misinformation pumping out of the climate denial machine. Stay tuned. Key articles on Donors Trust and Donors Capital Fund:
Freshly released today: a report by the Checks & Balances Project examining how often top U.S. newspapers fail to attribute fossil fuel ties to organizations or people that appear news articles to promote fossil fuels, demonize clean energy or promote delay of climate change solutions. Tracking ten of the top fossil fuel front groups in 58 leading U.S. newspapers, the new report finds over 1,000 instances where ties to or funding from coal, oil and gas interests was not disclosed when including a shill group or quoting one of its "experts."
Only 6% of the time were fossil fuel ties disclosed when these top 58 newspapers reported on the ten fossil fuel front groups examined in the study. These groups wind up in the paper, on average, at least once every other day. In the five-year window the report uses, the ten front groups got at least $16 million from coal, oil and gas interests.
According to Checks & Balances:
These groups, and their proponents, have been quoted on average every other day for the past five years in 60 of the largest mainstream newspapers and publications. Despite having received millions of dollars from fossil fuel interests, such as ExxonMobil and Koch Industries, these groups' financial ties to the fossil fuel industry are rarely mentioned.
Deniers are already taking notice--see Steven Milloy's complaints here. Steve Milloy has been a central climate denier, who was paid to shill for tobacco company Phillip Morris and oil giant Exxon before work for the Cato Institute (see below) and starting the climate denial website "JunkScience."
The ten groups that Checks & Balances examined are well-established fossil fuel apologists. Here is a roundup of watchdog sites with more information on each of these organizations' historic funding from and work for fossil fuel interests like ExxonMobil and Koch Industries (2006-2010 funding figures compiled in the Checks & Balances Project report):
American Enterprise Institute (AEI): $1.675 million from fossil fuel interests (2006-2010)
Competitive Enterprise Institute (CEI): $88,279 from fossil fuel interests (2006-2010)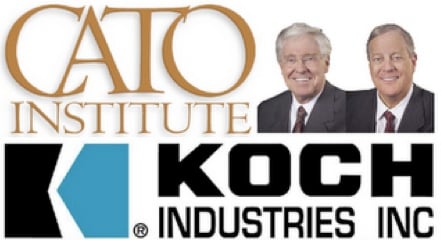 Cato Institute: $1.385 million from Koch/Exxon (2006-2010)
George C. Marshall Institute: $675,000 from fossil fuel interests (2006-2010)
Heartland Institute: $115,000 from Exxon (2006-2010, see also $25,000 grant from Charles Koch in 2011)
Heritage Foundation: $2.523 million from fossil fuel interests (2006-2010)
Hudson Institute: $75,000 from fossil fuel interests (2006-2010)
Institute for Energy Research (IER): $310,000 from fossil fuel interests (2006-2010)
Manhattan Institute: $1.38 million from fossil fuel interests (2006-2010)
Mercatus Center: $8.06 million from fossil fuel interest (2006-2010)
Memo to: the Koch PR team
From: Polluterwatch
Re: over-zealous PR unlikely to help your clients
Dear Koch PR team
It's good to know who you are now – thanks to a story over at Politico. But perhaps we can offer you a little bit of advice?
We note that you've been getting to work on your new Koch account, placing stories in the New York Times about funding cancer research and the like. (Good distraction tactics!).
We also note how active you've been on the Koch Industries, Inc Facebook page
We understand that the brief from the Kochs is to fight back against the terribly bad name they've been getting over the last year.
And while we know the Koch brothers fund the deniers (as documented in this Greenpeace report), we also know that they've made you go to great lengths to distance them from any involvement. Major fail for you then when Wikipedia found out that your web guys, New Media Strategies, had created sock puppets to edit out the links and banned them from the site. Ouch!
But did you take another step too far last week? A new post appeared on Koch Industries' facebook page on 19 March saying:
"A Berkley scientist explains how activist scientists managed to "hide the decline" in recent global temperatures.
"You're not allowed to do this in science," Richard Muller explains."
It links to a puff piece on Power Line by serial denier Steven F Haywood (more on him later), promoting one Richard Muller's denier views on climategate.
ClimateProgress has unearthed what Muller is up to – he's co-chairing the rather prestigious-sounding "Berkely Earth Surface Temperature Study" – another recipient of Koch Funding.
Seems the whole project is a ruse to challenge Michael Mann's Hockey Stick findings from the early 1990's – a challenge raised by the so-called "climategate" scandal. As Think Progress points out:
"why would Berkeley want to be associated with the Kochs?"
And why investigate the Hockey stick findings, which have been backed up by at least five other studies? The deniers have focussed on the Hockey Stick argument (that shows global temperatures spiking upward, like a hockey stick) as their benchmark for whether global warming is happening and whether it's caused by human activities. But this is despite strong signals from different areas of science that all point in the same direction.
That's the same Richard Muller who has, as Climate Progress points out:
"has actually worked to undermine credibility in well-established science."
(Latest: Climate Progress has now discovered that the Berkley project is not turning out the way Muller and the Koch's want it to go – turns out that their preliminary results show that the temperature records are dead right. Oops! Findings are summarised:
"We are seeing substantial global warming" and "None of the effects raised by the [skeptics] is going to have anything more than a marginal effect on the amount of global warming."
The presence of Muller and climate-scientist-turned-denialist Judith Curry is bad enough.
But Haywood? Do you not know who this guy is? If ever there was a Koch-funded climate denial mouthpiece, it's Steven F Haywood. He's a fellow at four of the Kochtopus-funded think tanks. They've all had quite a bit of funding from your clients 1986-2009:
Reason Foundation ($2,536,521),
Heritage Foundation ($4,110,571),
Pacific Research Foundation ($1,515,800) and
American Enterprise Institute (only $150,000 from Koch but Exxon gave them $2.8 million).
So the total Koch money to Hayward's groups is $8,312,892. Add Exxon's $4,341,000 and that adds up to a massive $12.65 million of denial punch.
No wonder you guys were excited about linking to his piece. But was it wise? Does Koch really want to be openly associating itself with Hayward and Muller – and "climategate?" This is the first time we've seen such an open association by Koch to undermining the climate science. Very useful for us – but doesn't this rather undermine the Koch's ongoing denial that they are linked with these climate deniers?
And finally, while we're discussing your Facebook page, another word of advice: if you're going to promote stories that you've managed to place in blogs, perhaps drip them out slowly?
During the Wisconsin protests, Koch's Americans for Prosperity group led the tea party in support of Scott Walker and Koch became a lightning rod for protestors. (Bet that got you going).
Nice work lining up all the bloggers to support Koch - but posting them all in one day on Facebook? Six posts in just a few hours? 4th March was a busy day for you. But seriously, if you're going to go on the offense, maybe make it a little less obvious?
We know you must be paid an awful lot by this client – are they really getting their money's worth? Or did you leave your Facebook promotion up to New Media Strategies?

Connect
Keep In Touch
---
---
Sign up for
POLLUTERWATCH News