craig idso
cgibson
| 10 September 2013 | 10:54 AM
Written by Cindy Baxter, crossposted from Greenpeace: Dealing in Doubt.
Who likes being lied to by people paid by the oil industry who pose as "experts" on climate change?
Did you know it's been going on for 25 years?
In a couple of weeks, the UN's official advisors on climate change science, the Intergovernmental Panel on Climate Change (IPCC) will update its global assessment on the issue. Yet in the background, more attacks on the climate science are underway
For the last quarter century, the climate science denial machine, its cogs oiled by fossil fuel money, has been attacking climate science, climate scientists and every official US report on climate change, along with State and local efforts – with the aim of undermining action on climate change.
Our new report, Dealing in Doubt, sets out the history of these attacks going back to the early 90s. These are attacks based on anti-regulatory, so called "free market" ideology, not legitimate scientific debate, using a wide range of dirty tricks: from faked science, attacks on scientists, fake credentials, cherry-picking scientific conclusions: a campaign based on the old tobacco industry mantra: "doubt is our product".
We give special attention to perhaps today's poster child of the climate denial machine's free market think tanks, the Heartland Institute, which is about to launch a new version of its "NIPCC" or "climate change reconsidered" report next week in Chicago.
Unlike the real IPCC, with thousands of scientists involved from around the world, the Heartland Institute's handful of authors is paid. Several of them claim fake scientific credentials. They start with a premise of proving the overwhelming consensus on climate science wrong, whereas the real IPCC simply summarizes the best science to date on climate change.
This multi-million dollar campaign has been funded by anti-government ideologues like the Koch brothers, companies like ExxonMobil and trade associations like the American Petroleum Institute.
More recently, less visible channels of funding have been revealed such as the Donors Capital Fund and Donors Trust, organization that that has been called the "ATM of the conservative movement", distributing funds from those who don't want to be publicly associated with the anti-environmental work product of organizations like the Heartland Institute.
In the last week we've seen new peer-reviewed science published, linking at least half of 2012's extreme weather events to a human carbon footprint in the atmosphere and on the weather and climate.
As the scientific consensus strengthens by the day that climate change is happening now, that carbon pollution is causing it and must be regulated, the denial machine is getting increasingly shrill. But today, while they are being increasingly ignored by a majority of the public, their mouthpieces in the US House of Representatives, for instance, have increased in number.
They're still fighting the science – and they're still being funded, to the tune of millions of dollars each year, to do it.
Dealing in Doubt sets out a history of these attacks. We show how the tactics of the tobacco industry's campaign for "sound science" led to the formation of front groups who, as they lost the battle to deny smoking's health hazards and keep warning labels off of cigarettes, turned their argumentative skills to the denial of climate change science in order to slow government action.
What we don't cover is the fact that these organizations and deniers are also working on another front, attacking solutions to climate change. They go after any form of government incentive to promote renewable energy, while cheering for coal, fracking and the Keystone pipeline.
They attack any piece of legislation the US EPA puts forward to curb pollution. Decrying President Obama's "war on coal" is a common drumbeat of these anti-regulation groups. One key member of the denial machine, astrophysicist Willie Soon from the Smithsonian Institute for Astrophysics, has portrayed himself as an "expert" on mercury and public health in order to attack legislation curbing mercury emissions from coal plants.
This recent history, as well as the prior history of denial by the tobacco companies and chemical, asbestos and other manufacturing industries, is important to remember because the fossil fuel industry has never admitted that it was misguided or wrong in its early efforts to delay the policy reaction to the climate crisis. To this day, it continues to obstruct solutions.
The individuals, organizations and corporate interests who comprise the 'climate denial machine' have caused harm and have slowed our response time. As a result, we will all ultimately pay a much higher cost as we deal with the impacts, both economic and ecological.
Eventually, these interests will be held accountable for their actions.
admin
| 21 May 2012 | 3:57 PM
Written by Greenpeace Research Director Kert Davies, crossposted from Greenpeace Blogs.
No one would argue that Heartland Institute is in turmoil. The Guardian summed it up pretty well last night . The historic Joe Bast backfiring blunder of a billboard campaign featuring Ted Kaczynski, the Unabomber, the non-apology that followed, corporate funders running for the exits, the collapse of the Heartland DC office, former friends and colleagues jumping Bast's ship in his "hour of need"...
Desperate times indeed for climate denial central....
Before the billboard debacle, after their documents were leaked, they called another meeting - to challenge the prevailing consensus science on global warming (again...). It looked to us a lot like a circling of wagons. The co-sponsor organizations and speakers at the Heartland meeting this week in Chicago are the last remaining army bent on stalling action on global warming. The cosponsor orgs along with Heartland itself, received grants totaling almost $5.5 Million from ExxonMobil and $13.8 Million from the Koch brothers foundations since the late 1990s. Their work together goes way back. The interlaced connections between these groups and people is best illustrated by this ExxonSecrets.org map
showing the meeting cosponsors down the left and some key speakers down the middle and all their other connections on the right. (Move them around on the map and explore their connections.) Marc Morano, Patrick Michaels, Myron Ebell, Fred Singer, Craig Idso, Willie Soon, Bob Carter and other speakers have long associations with multiple denial front groups The crowd assembled in Chicago this week at the 7th (not annual, but randomly occurring) Heartland Denial-Palooza meeting is a who's who of individuals and organizations that have actively conspired to derail global warming policy and science for the last two decades. Ever since the world woke up to the climate crisis, this mob has been working to delay action by distracting the public and policy arena with misinformation. Steve Coll's new book, Private Empire, gives an in depth account of Exxon's front group climate denial funding effort that accelerated after the Kyoto Protocol in 1997. These people and groups at Heartland's meeting are the very groups Exxon was funding to do their scut work a few short years ago.. Exxon Dumped Heartland The corporations fleeing Heartland now are slow learners. Exxon dumped Heartland years ago when it shed multiple front groups who they admitted "could divert attention" on climate change. Alas, Heartland is still diverting attention, Exxon money or not. Exxon did give Heartland a total of $676,500 from 1998 until 2007 they severed ties.
"In 2008, we will discontinue contributions to several public policy groups, whose position on climate change could divert attention from the important discussion on how the world will secure energy required for economic growth in a responsible manner." --2007 ExxonMobil Corporate Citizenship Report, published in May 2008
NOTE: Shareholder activists continue to try to hold Exxon accountable on climate change at their AGM May 30 in Dallas, including a resolution on greenhouse gas reductions. Reporters: go cover that meeting! Starting in 2006, Exxon dumped all (well almost all, see Heritage below) of the current co-sponsors of the Heartland meeting whom they had sent a grand total of $5.49 Million in grants from 1998 until they cut them off one by one. This year's co-sponsors include:
NOTE: Late comer to the Heartland party is the Illinois Coal Association. For years they bragged that these Denial-Palooza meetings were not funded by corporations, but alas times have changed. But the legacy of these groups is deeper and more detailed than just sharing money from Exxon. The Koch brothers Foundations sent the co-sponsors of the Heartland meeting a total of $13.8 Million from 1997 onward. Koch money receipts by Heartland co-sponsors
Americans for Prosperity, late conference co-sponsor, has received nearly $5.8 Million from the Koch foundation. David Koch is the Chair of Americans for Prosperity Foundation.
Heritage leads all Koch fundees having received over $4.4M since 1997
Reason Foundation has received at total of $1.8M
Capital Research Center hauled in $660K
CEI got $521K in Koch money
Frontiers of Freedom has received $175K
Ayn Rand Institute, Center for Study of CO2 and Global Change, Independent Institute and the John Locke Foundation all received Koch money.
Let's explore the history of this hardcore climate denial club a bit further: American Petroleum Institute Secret Plan Many of the people at the Chicago meeting and the organizations they represent were part of the American Petroleum Institute's Global Climate Science Communications Team (GCSCT), circa 1998. This leaked document revealed a multimillion dollar plan to train scientists for media and run a counter narrative to the prevailing climate science.
Greening Earth Society Craig Idso, a speaker at the conference, who we now know is on the Heartland payroll at over $130K this year, was one of the architects of the 1992 coal-funded Greening Earth Society which tried the non-denial approach: It's good for us, everything will be greener and warmer. Don't worry, burn coal as fast as you can!! Can you believe this guy still has a job? Recap The Peter Gleick master dupe of the century, revealed for all to see the Heartland 2012 Budget and Fundraising Plans. When DeSmogBlog released the documents on Valentines Day, we learned an awful lot about the Heartland mob and their plans. The Greenpeace Heartland investigation continues at PolluterWatch. Some of what we have learned:
Their climate denial lifeline over the past five years at least has been one "Anonymous Donor" who is managed by the random Mr Bast., who at times has accounted for over 60 percent of their operating budget.
Heartland is developing K-12 curriculum to teach our children their climate mythology.
They have moved uptown out of their "shabby" offices and wanted to raise more money working on fracking, presumably to keep up with the rent.
They hope(d) to increase their $20,000 2011 donation from one of the Koch Foundations to $200,000 and leverage the Koch network to expand their funding base. Wonder how those fundraising calls to the Kochs' are going now, after the billboard blowback?
This Heartland Chicago meeting might be interesting. The last one was a dud I hear. Oh to be a fly on the wall as the participants line up to rail on Joe Bast for dragging them into his cesspool.
PolluterWatch: Greenpeace Investigates Heartland Institute Leaked Documents -- click to see investigation and ongoing updates.
UPDATE: After dropping support for ALEC, Pepsi distances itself from the Heartland Institute's climate denial.
Perhaps the most outrageous revelation of "Denialgate," the leak of internal Heartland Institute budget and fundraising documents detailing their 2012 work plan to obstruct global warming policy, is a project to develop school curricula to teach K-12 students that there is doubt over the causes and implications of global warming.
What hasn't been reported is the complementary role of the American Legislative Exchange Council (ALEC), which has peddled laws written by corporate lobbyists through state legislatures that make it easy for its dirty energy members, such as Exxon, Koch Industries and Peabody coal, to influence how climate science is presented to students. The so-called "Environmental Literacy Improvement Act," which has been introduced in seven states and became law in at least three, would establish a state-level council to oversee all scientific material presented to students, allowing companies to smother classroom science with K street politics. This council would notably exclude anyone with environmental science credentials, instead composing itself in the following proportions:
Basically, it ensures that climatology will be underrepresented. Note that environmental science is interdisciplinary, open to a variety of natural science expertise in order to study complex natural systems that cannot be confined to a single topic of study. See our annotated version of the ALEC bill showing how ALEC's language can be used to peddle global warming denial in schools.
So where did this bill come from? We know that ALEC members include not only the Heartland Institute, but a who's who of dirty energy interests that stand to make money by denying climate change. More specifically, there appears to be a key industry operative who oversaw development of the ALEC bill. Her name is Sandy Liddy Bourne, the daughter of convicted Watergate criminal G. Gordon Liddy.
Alexandra "Sandy" Liddy Bourne runs an oil industry front group called the American Energy Freedom Center with former ExxonMobil
lobbyist Randy Randol. Bourne is a longtime affiliate of both the Heartland Institute and ALEC, currently formerly a Heartland senior fellow for environmental issues and formerly Heartland's vice president for policy and strategy. Prior to joining the Heartland Institute, Sandy Liddy Bourne was ALEC's Director of the Energy, Environment, Natural Resources and Agriculture Task Force for the from 1999-2004, before being promoted to Director of Legislation and Policy, where she oversaw all of ALEC's task forces and helped boost state enactment of ALEC's corporate bills from 11 percent to 20 percent. In Bourne's time directing ALEC's environmental task force, the "Environmental Literacy Improvement Act" was created and approved by ALEC's board in June, 2000.
While this ALEC bill was finalized, ALEC's Private Enterprise board chairman was Mike Morgan of Koch Industries. The Heartland Institute still promotes ALEC's "Environmental Literacy Improvement Act" on its website to this day.
Confused? Check out all the key players in this interactive ExxonSecrets map!
Heartland Payments to Federal Employee for Unscientific Climate Lesson Plan
The Heartland Institute repeatedly has shown it doesn't hold the scientific method in particularly high regard, even if their climate denial conferences are run under the banner "Restoring the Scientific Method." According to its 2012 fundraising document, Heartland is paying a US Department of Energy (DOE) official named David Wojick $5,000 a pop for modules teaching high school students that "whether humans are changing the climate is a major scientific controversy."
It's not. Regardless of whether David Wojick simply denies this reality or if he drank the Koch Industries Kool Aid, his climate credibility is zero.
The National Academy of Sciences found that 97% of actual climate researchers understand that global warming is happening and is primarily caused by humans burning fossil fuels. However, most K-12 students don't read the Proceedings of the National Academy of Sciences. I certainly didn't--I relied upon my teachers to teach science with unbiased integrity.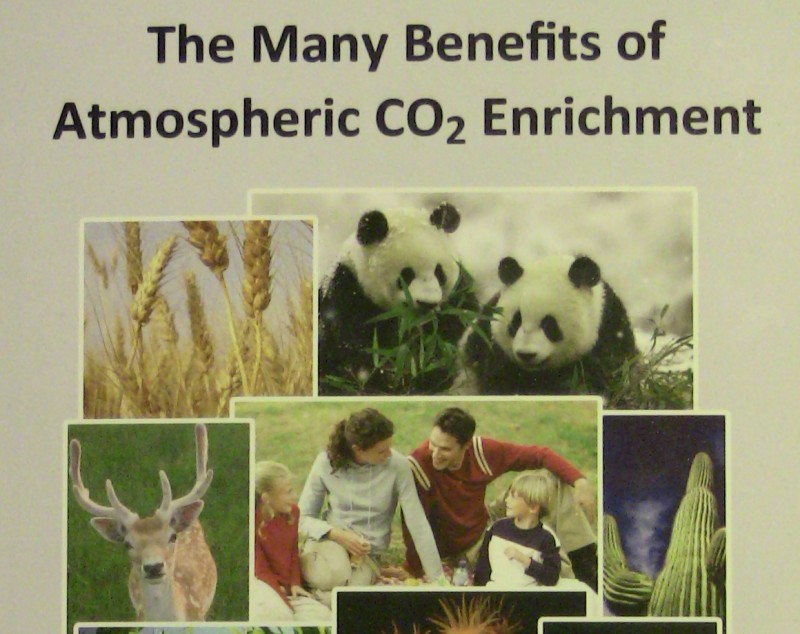 Wojick has expertise not in climate science, but the philosophy of science. He has done contract work for the coal industry through the "Greening Earth Society," a fairy tale organization established to promote the absurd idea that more CO2 in our atmosphere, such as from burning coal and other fossil fuels, is unconditionally good for our planet. This fallacy is promoted by other notable non-experts, such as oil billionaire David Koch and junk scientist Craig Idso, who produced propaganda films for the Greening Earth Society (a coal industry front group). Idso presented "The Many Atmospheric Benefits of CO2" to ALEC's Energy and Environment task force at their August, 2011 meeting in New Orleans, where he told ALEC insiders that we "should let CO2 rise unrestricted, without government intervention" since "CO2 is definitely not a pollutant."
The coal industry clearly wishes this were true, Mr. Idso.
In addition to accepting fossil fuel propaganda money alongside Mr. Wojick at the Greening Earth Society, Craig Idso also consults for the Heartland Institute. Idso's $140,000 contract with Heartland this year is to coordinate the anti-scientific "Climate Change Reconsidered" reports, an admittedly "political" project that includes contracts to two federal workers and multiple university faculty members. These payments US Interior Department (DOI) contractor Indur Goklany, who is under investigation by the Interior Department's Inspector General's office at the request of US Representative Raul Grijalva of New Mexico.
While the Heartland Institute is doing its best to make this unraveling scandal disappear, mainly by vilifying scientist Peter Gleick for embarrassing the Institute, Greenpeace is pushing for more. We continue to seek answers from federal bodies and universities whose employees are taking money from the Heartland Institute to attack science and disrupt the democratic process on behalf of tobacco companies, industrial giants and billionaire ideologues like the Koch brothers. Visit PolluterWatch for ongoing results of Greenpeace's investigation of the Heartland Institute leaked documents.
Key References:
Steve Horn, "ALEC Model Bill Behind Push To Require Climate Denial Instruction In Schools," DeSmogBlog, Jan. 26, 2012.
Brad Johnson, "INTERNAL DOCUMENTS: The Secret, Corporate-Funded Plan To Teach Children That Climate Change Is A Hoax" ThinkProgress Green, Feb. 14, 2012.
Brad Plumer, "Will your kids be taught that climate change is a hoax?" Washington Post Wonkblog, Feb. 23, 2012.
Katherine Bagley, "Science Educators Troubled by Heartland's Climate Curriculum and Author's Credentials," InsideClimate News, Mar. 15, 2012.
Evan Lehmann, "Heartland Institute is looking at 'every place' in grades K-12 for climate debate," ClimateWire, E&E Publishing, Mar. 15, 2012.
Connect
Keep In Touch
---
---
Sign up for
POLLUTERWATCH News