Scott Walker
-- By Nick Surgey of The Center for Media and Democracy and Connor Gibson of Greenpeace
At the
American Legislative Exchange Council
(ALEC) 2015 annual meeting in San Diego, California, dirty energy companies and their supporters--including ExxonMobil, Chevron, and Duke Energy--continue to dominate the funding of activities, according to a list of conference sponsors obtained jointly by the Center for Media and Democracy and Greenpeace.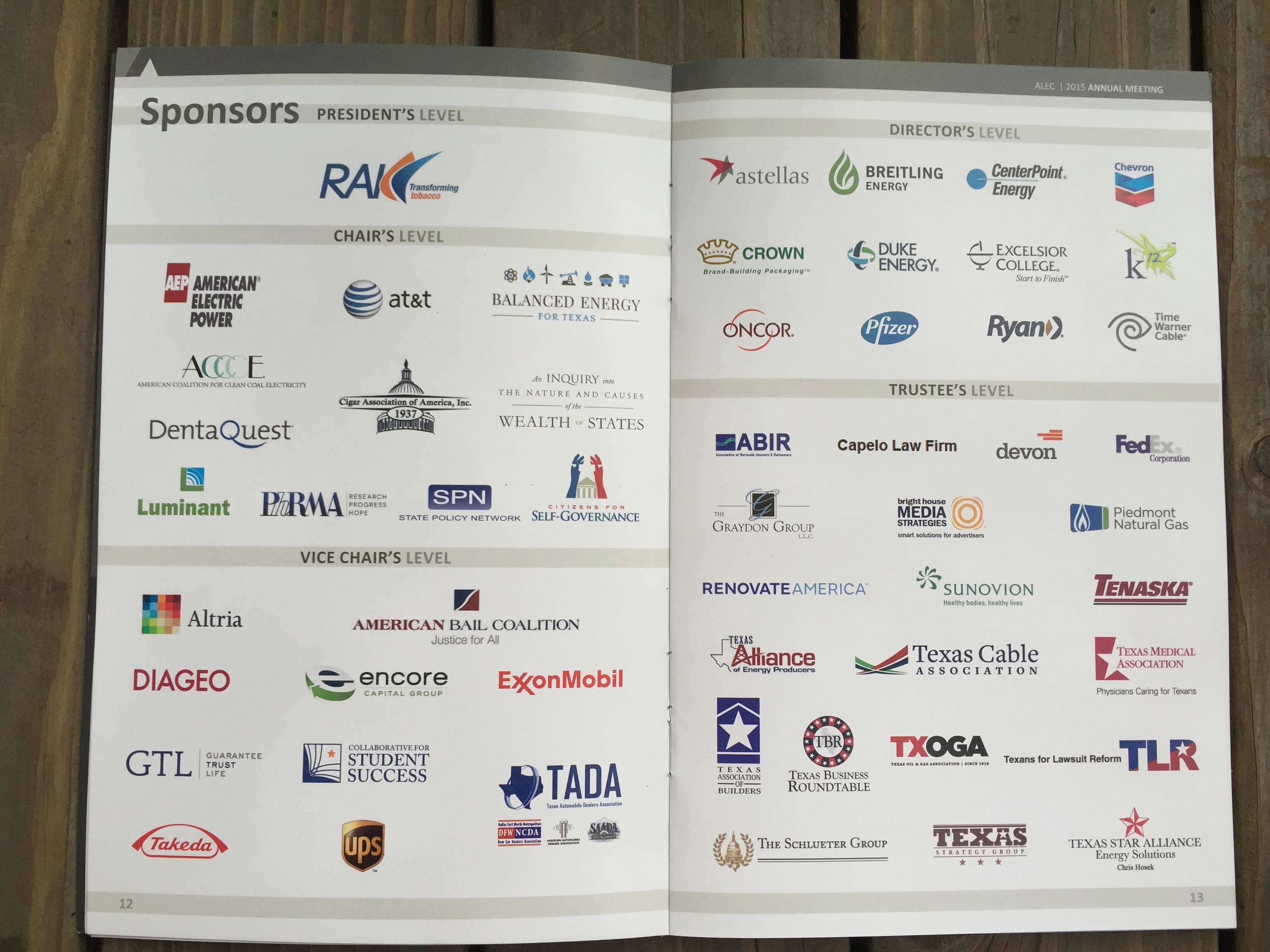 At the top of the agenda, Wisconsin Governor Scott Walker spoke to ALEC delegates over breakfast on Thursday. Walker is now campaigning on a promise to destroy the Environmental Protection Agency (EPA) if elected President in 2016, a plan which was earlier debated by ALEC at its December 2014 conference and is in line with ALEC's long-term legislative agenda.
At ALEC conferences and meetings, rhetoric against the EPA--and in particular the Obama administration's proposed Clean Power Plan to reduce carbon pollution--is frequently extreme.
ALEC sessions have repeatedly featured overt denial of climate change science. During recent ALEC conferences, legislators have been called upon to engage in "guerrilla warfare" against the EPA and at another session instructed to bring about a "political tsunami" to block pollution controls.
After Google chairman Eric Schmidt accused ALEC of "literally lying" about climate change on NPR in September 2014, a
fleet of companies ditched ALEC
, from oil giants like BP and Occidental Petroleum to software and tech firms like Facebook, Yelp, Yahoo, AOL, eBay, and SAP--the company which chaired ALEC's corporate board.
Opposing Action on Climate Change
On the agenda during the San Diego closed-door meeting of the ALEC Energy, Environment and Agriculture task force are numerous new attempts to undermine efforts to tackle climate change.
The proposed ALEC model "Environmental Impact Litigation Act," based on a law passed in North Dakota in 2015, would allow coal, oil, and gas companies to pay into a fund for the state to sue against a number of key federal environmental laws, including the Clean Air Act. This law, if passed, could be used to allow coal companies to fund state lawsuits against the Clean Power Plan.
Of the 54 identified corporate sponsors, twenty-two are energy related firms, their front groups, or firms representing energy interests. Most notable among the sponsors is ExxonMobil, which just last week told the Guardian that it isn't sponsoring climate change denial groups, including ALEC specifically. ExxonMobil is among the top sponsors of ALEC's 2015 annual meeting, and Exxon's Cynthia Bergman remains on ALEC's corporate board.
Below are financial underwriters of ALEC's meeting, taking place at one of the largest resorts on the West Coast, along with the rates from another document obtained by CMD, ranging from $5,000 to $100,000.
The corporations and amounts listed here are just part of the funding picture for ALEC
These amounts do not include other money corporations pay ALEC in membership fees, or additional fees to participate on ALEC task forces, for which lobbyists receive a seat and a vote alongside legislators in setting the ALEC agenda. It also does not include money spent by corporate lobbyists at special parties for lawmakers or state delegations at some of the most expensive restaurants in San Diego, nor money spent by some of the corporations to fund the trips for state lawmakers to San Diego for what ALEC has dubbed "scholarships."
ALEC's 2015 Annual Meeting Sponsors
Dirty energy interests & front groups in bold
*Asterisks indicate membership on ALEC's corporate board of directors
President's Level - $100,000
Reynolds American Inc (RAI--tobacco company)
Chair's Level - $50,000
American Electric Power (AEP)
AT&T*
Balanced Energy for Texas
American Coalition for Clean Coal Electricity (ACCCE)
Cigar Association of America
An Inquiry into The Nature and Causes of the Wealth of States* (new book by Travis Brown & ALEC board member Stephen Moore, ALEC advisor Art Laffer, and Missouri political financier Rex Sinquefield)
DentaQuest
Luminant (subsidiary of Energy Future Holdings)*
PhRMA*
State Policy Network (SPN)
Citizens for Self-Governance
Vice Chair's Level - $20,000
Altria (Phillip Morris tobacco parent company)*
American Bail Coalition*
Diageo*
Encore Capital Group (subsidiary of Energy Future Holdings)*
ExxonMobil*
Guarantee Trust Life (GTL)*
Collaborative for Student Success
Texas Automobile Dealers Association (TADA)
Takeda
UPS*
Director's Level - $10,000
Astellas Pharma
Breitling Energy
CenterPoint Energy
Chevron
Crown Packaging
Duke Energy
Excelsior College
K12*
Oncor (subsidiary of Energy Future Holdings)*
Pfizer
Ryan (tax services company)
Time Warner Cable
Trustee's Level - $5,000
Association of Bermuda Insurers & Reinsurers (ABIR)
Capelo Law Firm
Devon Energy
FedEx
The Graydon Group LLC
Bright House Media Strategies
Piedmont Natural Gas
Renovate America
Sunovion Pharmaceuticals
Tenaska Capital Management
Texas Alliance of Energy Producers
Texas Cable Association
Texas Medical Association
Texas Association of Builders
Texas Business Roundtable
Texas Oil and Gas Association (TXOGA)
Texans for Lawsuit Reform
The Schlueter Group
Texas Strategy Group
Texas Star Alliance Energy Solutions
For the full page of corporate logos sponsoring the ALEC conference see
here
.
Memo to: the Koch PR team
From: Polluterwatch
Re: over-zealous PR unlikely to help your clients
Dear Koch PR team
It's good to know who you are now – thanks to a story over at Politico. But perhaps we can offer you a little bit of advice?
We note that you've been getting to work on your new Koch account, placing stories in the New York Times about funding cancer research and the like. (Good distraction tactics!).
We also note how active you've been on the Koch Industries, Inc Facebook page
We understand that the brief from the Kochs is to fight back against the terribly bad name they've been getting over the last year.
And while we know the Koch brothers fund the deniers (as documented in this Greenpeace report), we also know that they've made you go to great lengths to distance them from any involvement. Major fail for you then when Wikipedia found out that your web guys, New Media Strategies, had created sock puppets to edit out the links and banned them from the site. Ouch!
But did you take another step too far last week? A new post appeared on Koch Industries' facebook page on 19 March saying:
"A Berkley scientist explains how activist scientists managed to "hide the decline" in recent global temperatures.
"You're not allowed to do this in science," Richard Muller explains."
It links to a puff piece on Power Line by serial denier Steven F Haywood (more on him later), promoting one Richard Muller's denier views on climategate.
ClimateProgress has unearthed what Muller is up to – he's co-chairing the rather prestigious-sounding "Berkely Earth Surface Temperature Study" – another recipient of Koch Funding.
Seems the whole project is a ruse to challenge Michael Mann's Hockey Stick findings from the early 1990's – a challenge raised by the so-called "climategate" scandal. As Think Progress points out:
"why would Berkeley want to be associated with the Kochs?"
And why investigate the Hockey stick findings, which have been backed up by at least five other studies? The deniers have focussed on the Hockey Stick argument (that shows global temperatures spiking upward, like a hockey stick) as their benchmark for whether global warming is happening and whether it's caused by human activities. But this is despite strong signals from different areas of science that all point in the same direction.
That's the same Richard Muller who has, as Climate Progress points out:
"has actually worked to undermine credibility in well-established science."
(Latest: Climate Progress has now discovered that the Berkley project is not turning out the way Muller and the Koch's want it to go – turns out that their preliminary results show that the temperature records are dead right. Oops! Findings are summarised:
"We are seeing substantial global warming" and "None of the effects raised by the [skeptics] is going to have anything more than a marginal effect on the amount of global warming."
The presence of Muller and climate-scientist-turned-denialist Judith Curry is bad enough.
But Haywood? Do you not know who this guy is? If ever there was a Koch-funded climate denial mouthpiece, it's Steven F Haywood. He's a fellow at four of the Kochtopus-funded think tanks. They've all had quite a bit of funding from your clients 1986-2009:
Reason Foundation ($2,536,521),
Heritage Foundation ($4,110,571),
Pacific Research Foundation ($1,515,800) and
American Enterprise Institute (only $150,000 from Koch but Exxon gave them $2.8 million).
So the total Koch money to Hayward's groups is $8,312,892. Add Exxon's $4,341,000 and that adds up to a massive $12.65 million of denial punch.
No wonder you guys were excited about linking to his piece. But was it wise? Does Koch really want to be openly associating itself with Hayward and Muller – and "climategate?" This is the first time we've seen such an open association by Koch to undermining the climate science. Very useful for us – but doesn't this rather undermine the Koch's ongoing denial that they are linked with these climate deniers?
And finally, while we're discussing your Facebook page, another word of advice: if you're going to promote stories that you've managed to place in blogs, perhaps drip them out slowly?
During the Wisconsin protests, Koch's Americans for Prosperity group led the tea party in support of Scott Walker and Koch became a lightning rod for protestors. (Bet that got you going).
Nice work lining up all the bloggers to support Koch - but posting them all in one day on Facebook? Six posts in just a few hours? 4th March was a busy day for you. But seriously, if you're going to go on the offense, maybe make it a little less obvious?
We know you must be paid an awful lot by this client – are they really getting their money's worth? Or did you leave your Facebook promotion up to New Media Strategies?

Over the last couple days, the complimentary agendas of Wisconsin Republican Governor Scott Walker and Koch Industries to attack unions and state employees has been increasingly observed, explored, and revealed. Here is the condensed story of Gov. Walker's and the Koch brothers' union busting in Wisconsin, which will be updated as more relevant information surfaces:
Advised by the Koch- and Exxon-funded American Legislative Exchange Council, Walker adopts the strategy of fabricating a budget crisis and calls for emergency mitigation. The state fiscal bureau denies this emergency, claiming the fiscal year could still end with a surplus, but Walker takes advantage of the crisis he created to strip labor unions of all bargaining rights except over salaries, which he plans to cut.
Governor Walker's bill includes a hidden provision to sell state energy assets to private contractors without legally mandated bids, opening up major opportunities for energy companies in a way that could provide less income to the state. Koch Industries happens to be a major energy conglomerate.
Governor Walker threatens layoffs for 1,500 public employees by July, 2011, the Koch brothers are reminded of recently laying off 25% of their work force in a Green Bay Georgia-Pacific plant.

Connect
Keep In Touch
---
---
Sign up for
POLLUTERWATCH News